CHRISTMAS FOR SHACKTOWN (1/3)
Okay, so that one Jughead story I don't know the title of, or the writer, or the artist, or the year of first publication. But this one, this one I can tell you is "A Christmas for Shacktown," written and drawn by Carl Barks, appearing in Four Color #367 aka Walt Disney's Donald Duck #367 (January 1952). Buckle in for it is a trip. Also, fair warning, I'm doing this from memory so there might be a small error here or there.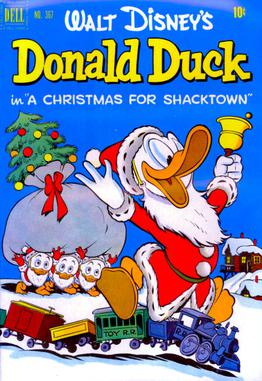 We open with Huey, Dewey, and Louey on their way home from school, the last day of school before the winter holidays. The trio decided, for no clear reason, to walk home not via their usual direct route. Instead, just for funsies, they pass through Shacktown.
Shacktown is basically what the name implies, a Hooverville full of sad malnourished people in shacks, which includes a large number of big-eyed winsome orphans, for some reason. I guess they might not be orphans.
The implication that by passing through Shacktown, Huey et al have exposed themselves to a social class they don't usually see. It's not clear why they don't go to school with the nephews. If their school is on one side of Shacktown and their house is on the other, then the nephews and the impoverished Shacktown children probably live in the same school district.
Nevertheless, the nephews are overwhelmed by the sights of Shacktown, especially those poor people, ugh. They wear clothes with rope for belts, and probably don't own anything nice, like toys or Christmas dinner! The boys are filled with pity and shame. Pity, because the kids of Shacktown dress in rags and have vitamin deficiencies, and shame, because until they reached Shacktown, the boys had been talking among themselves about their upcoming Christmas celebration — presents and feast and decorations and so on.
As they approach home, the nephews run into Daisy Duck, out and about. Daisy congratulates the boys on their winter holidays starting and asks why they're so glum, given that they should be excited about Santa's gifts and such. The nephews explain about Shacktown and how none of the kids there will be getting any gifts from Santa. Daisy hears about those poor Shacktown kids and how they don't have any toys, and declares that her "women's club" will organize a charity dinner and present giveaway. She runs off to make it happen, and the kids go home.
Meanwhile, or maybe hours later, Donald Duck sits at his kitchen table staring mournfully at his checkbook. He's got five dollars to his name and no income for the rest of the calendar year. It's mid-December so this wouldn't be so bad except that with the five dollars Donald needs to buy a) a gift for Huey, b) a gift for Dewey, c) a gift for Louey, d) a Christmas dinner for himself, the nephews, and maybe Daisy, e) Christmas decorations. I am not an expert in 1953 economics (neither is Donald, rim shot) but I'm led to believe by Donald's fretting that each of those five items could easily cost up to five dollars by themselves. Either Donald already has a gift for Daisy or he isn't planning on getting her one, it's unclear.
As Donald reflects on how fucked over he is, and how he'd move heaven and earth to make sure his kids have a good Christmas but he has no idea how to make it happen, Daisy comes in. Donald immediately stows his checkbook and assumes the mein of a wealthy feudal lord, overfilled with confidence and panache and oodles of cash on hand.
Daisy explains the whole "Christmas for Shacktown" plan that she came up with, inspired by the nephews' concern for the impoverished children of the ghetto. There's just one small hurdle: she's gone over her women's club's budget and the amount of money they have on hand, versus the amount that a nice turkey dinner for the whole of Shacktown plus one mega-deluxe toy train set for the orphans and orphan wannabees to share. Daisy is fifty dollars short.
"Fifty dollars!" laughs Donald. "So of course you came to me, Boyfriend Moneybags, the handsome duck with the everfull wallet, the sultan of cheerfully-giving-loads-of-money-to-charity-because-he's-so-rich, Mister Wealthy-Man the Fifty-Dollar Wellspring…"
And Donald would probably go on blathering like that and stalling for time but Daisy cuts him off. She's well aware that Donald does not have fifty dollars to light on fire. But maybe Donald can ask his actually-wealthy uncle, Scrooge McDuck?
Donald laughs, because yeah, no. Scrooge is not going to give Daisy money for a Christmas feast and toys for the poor. Scrooge did not become rich by writing checks.
The nephews wander in at this point, and they and Daisy beg Donald to at least try talking to Scrooge. Donald is extremely skeptical of this hail-Mary plan working, especially inasmuch as he knows Scrooge holds toys in general and toy trains in particular in especial contempt. (Scrooge's antipathy for toy trains is never explained, btw.)
So cut to Scrooge's money bin, the next day or something. Scrooge has a problem: his money bin is overflowing. There's too much humidity or something and his rolls and rolls of bills are swelling up and forcing their way out of the bin and all over his nice clean office floor. He's sweeping the money back away and complaining about how he just has too much money, when there's a knock at his door.
Scrooge has a cannon pointed at his office door. He rushes over to it and lights a match and holds the match near the fuse before asking who it is. It's Donald, of course. Scrooge lets him in and complains about having wasted a match.
Donald asks Scrooge for money, it doesn't work out well for him. I forget the exact sequence of events and I'm not going to go look it up but Donald tries shaming Scrooge into charity, he tries appealing to Scrooge's sympathy for the impoverished kids who can't pull themselves up by their bootstraps because they're impoverished kids, and he tries smuggling the nephews' pet rat into the money bin so that Scrooge will see it and panic and assume the rat is about to eat dollar bills and then he offers to catch the rat in exchange for the money and that one almost works.
Long story short, Scrooge finally agrees to donate twenty-five dollars to Daisy's charity dinner, money to go towards turkey dinner only. Scrooge doesn't want his money going to a wasteful frittering like a mega-deluxe toy train set. So he agrees to give his twenty-five for the turkey if and only if Donald can prove he's already raised the other twenty-five he needs, so that there's no chance they'll take Scrooge's money and spend it on toys.
Cut to Donald and Daisy working this out with the nephews. Twenty-five dollars they need. The nephews point out that Donald has some amount of money set aside for their Christmas, and suggest he use that. Donald reluctantly admits he's only got five bucks. The nephews figure they can get another five through the Junior Woodchucks snow-shoveling program. Daisy has "tatting" she can pawn, for another five, that just leaves ten bucks that Donald needs to find.
Donald starts hitting random folks up for charity, just walking up to folks on the street, telling them about the Shacktown dinner situation, but no one has money to spare for him. He tries to get temp work but nobody's hiring, not even for the most demeaning of manual labor. He might go home and try to find something else to pawn, I don't remember. In any case, he ends up sitting on a bench in the park, in the snow, collar turned up against the cold, trying hard to figure out what he's overlooked.
Then someone tosses him a dollar coin, because they assume he's panhandling.
"Sweet!" cries Donald, or the 1953 analogue of "sweet." He'll fucking beg for the money, he doesn't care. He starts asking passersby, c'mon, show some charity, show some charity.
Before he's been doing it an hour, Scrooge passes by. Scrooge's money bin (which is still overflowing with swollen bills) happens to be right across the street from the park where Donald is begging. Scrooge sees Donald begging and starts haranguing him, what's the matter, nephew, don't you have any pride, have you even made any money?
Donald shows off the dollar coin he scored and brags that he got it in the first five minutes, so Scrooge decides that panhandling is a worthy use of his time and shoves Donald off the park bench, seizing his place. Scrooge starts begging passersby for money the same way Donald did, though he has no immediate takers.
So Donald has managed to go from needing fifty dollars to needing nine dollars, but in another sense he's further from his goal than ever, because he's exhausted literally every method he can think of for obtaining the money he needs. And then he sees someone who can help him. Someone who is the last person Donald ever wants to see.
Gladstone fucking Gander.
TUNE IN FOR PART TWO WHENEVER I REMEMBER TO WRITE IT!