When I was a kid I read a bunch of Archie comics for a while there. I don't recall the exact years but probably something like 1987 to 1989. I remember having a subscription (?) to the Jughead digest. I wanted Jughead instead of Archie because I was a hipster, I guess. Remembering the Archie comics I read back then, it's all a blur except for four things.
1) There were two one-page gag stories that had the same name. That name was "Borrow Sorrow." They were in different digest issues and since the digests were a bunch of reprints they were probably written and drawn many years apart.
2) There was an Archie PSA about AIDS that I found so baffling I asked my mother about AIDS, and she hemmed and hawed and said it was a disease you could get from blood transfusions, and when I pressed her crabbily admitted that it was also transmitted through sex, was I happy, I'd made my mother use the word sex. Take a look, it conveys absolutely nothing useful about HIV or AIDS, right?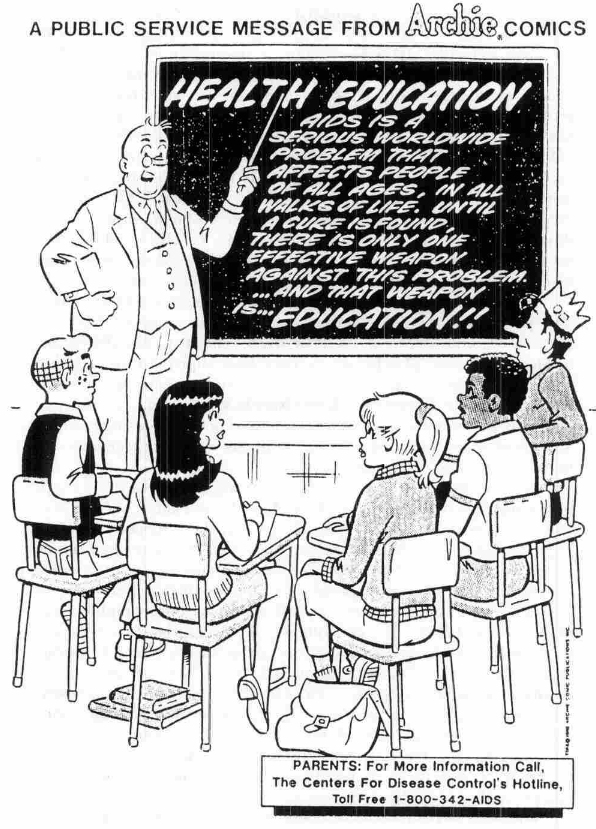 3) There was a story where Archie, Jughead, and Reggie went to Pop's diner on a Friday night and complained about having nothing to do that weekend, and in the course of the conversation Archie revealed that he had been under the mistaken impression that it was Saturday night. The revelation that no, it was Friday, was so powerful that it filled Archie with euphoria — he felt as though he'd time travelled, or been made a day younger, or that the weekend had become a three-day weekend. He was so excited he danced around, hit his head, had to go to the hospital, and didn't recover from the concussion until Sunday morning.
4) There was another story where Jughead joined the Home Ec class. Miss Grundy, the teacher of the class, is irate, assuming Jughead is pulling some kind of antic. Girls take Home Ec, boys take Wood Shop, she says, that's the way it is at Riverdale High. Jughead retorts that that's an outdated stereotype and he can take Home Ec if he wants to, he likes to eat and it's only reasonable he should want to learn to cook, and he rallies Betty, Veronica, and the other girls in the Home Ec class to support his bid against institutional sexism. I don't know when the story was written, probably well before 1988. Anyway, Jughead explains that he checked the school rules and that there was definitely no rule that denied him the right to take Home Ec same as any other student. Miss Grundy is annoyed that Jughead is going all barracks lawyer on her, but she's also sheepish about being called out on her sexist prejudices and agrees to teach Jughead in the Home Ec class.
First class is about how to bake a cake. Betty bakes a cake, Veronica bakes a cake, Midge and Ethel and so on all bake cakes. Jughead, though, cooks a hamburger. "I don't know what happened," he claims. He tried his best to bake a cake but the darn thing just came out a hamburger! Oh, well, he'll take his failing grade for the day and eat the hamburger. Miss Grundy seethes, but is powerless to stop him. Second class is about how to, I don't know, fry an egg. Betty fries an egg, Veronica fries an egg, Midge, Ethel, et cetera. Jughead cooks another hamburger. "Whoopsy-doodle," says Jughead, "somehow a hamburger! I guess I'll take my failing grade for the day and eat this hamburger."
By this point it's painfully obvious to everyone what Jughead's scheme is. He has enough credits from his other courses that he can fail Home Ec and still graduate on time no problem, and he just intends to make and eat hamburgers every day on the school's dime. Why the school has hamburger meat and buns and cheese and so on, ready to go, at all times even when the intended coursework is about cakes: not examined. Betty, Veronica, et al are super mad at Jughead, because he made them look like chumps with his whole first-wave feminism rhetoric, and they demand Miss Grundy kick him out of the class. Miss Grundy has studied the rules, though, and she can't kick him out of the class unless Jughead breaks a rule and making hamburgers isn't against the rules. If failing a class was grounds for being kicked from it, something something Moose. I think Jughead even gloats a bit at this point, because he's figured out how to cheat the system and he's braggy about it, feeling his oats. He announces his intentions to keep on making and eating hamburgers in Home Ec, day after day, for the rest of the semester, and he will suffer no ironic comeuppance! Do you hear? No comeuppance!
The next class is, let's say peanut-butter cookies. Betty makes cookies, Ronnie makes cookies, and so on. Jughead makes a hamburger. "Darn it all," says Jughead, smiling like an asshole, "I keep trying to make other things and yet hamburgers keep coming out! Oh, well, I guess I'll just take my failing grade for the day and eat this hamburger." But then! Miss Grundy says "oh no you don't!" and she takes the hamburger and throws it into the disposal. The hamburger was made with school meat and bun and is school property and there is no rule that says Miss Grundy has to allow Jughead to eat the hamburger, she looked it up!
"But… but… you're wasting food!" shrieks Jughead, as though seeing his beloved hamburger be converted into garbage is causing him physical pain. "No, you're wasting food," says Miss Grundy. Food and ingredients and everybody's time. No more free burgers for Jughead; if he keeps on his current course he'll just fail Home Ec to no purpose. Jughead turns to Betty, Veronica, et al for support, but they remember his feminism-bullshit trickery, and they refuse to aid him. So the story ends with an abashed Jughead going back to Wood Shop with his tail between his legs, and Archie and Reggie razzing him about how his foolproof plan turned out to be not so much. The end.
If you happen to know who wrote this story, what it was titled, when it first appeared, anything like that? Let me know, I'd love to be able to add that information.