Primary Sources: Le Morte D'Arthur, Book VI Chapter XI Continued
Launcelot rides across the wilderland for another indeterminate period, hours or days or months, eventually arriving at a nice walled manor house out in the middle of nowhere. The house's resident is a pleasant old lady who offers Launcelot full hospitality, which Launcelot accepts: food, drink, bed. Launcelot only wants his bed for sleeping, and what with one thing and another instead of sleeping in the manor house, he ends up in the gatehouse over the big gates of the wall around the estate.
This may seem nonsensical, but it's necessary for this part of Malory's story. See, late that night, Launcelot is awoken by the noise of someone banging on the gates. He looks out a window and sees that three knights are beating up a fourth knight, and the fourth knight is trying to get into the estate.
"Whoa," Launcelot says to himself. "I don't know anything about these people or why they're fighting, but if I don't jump in, I'm tacitly taking the side of the three guys who are liable to win if I don't interfere. In which case, hey, that's four knights to one knight, which is a terribly lopsided and unfair contest! I can't be a party to that!" So Launcelot ties his bedsheets together and makes a rope and climbs down to the knights, as if he were escaping from an orphanage or something. How old is that hoary image? At least five hundred years, is how old.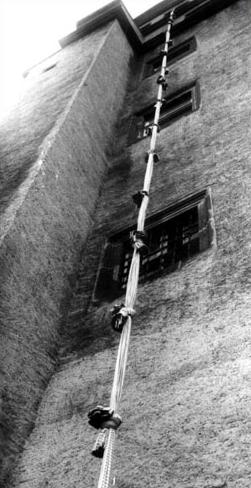 Anyway, Launcelot jumps down and demands that the three knights stop laying into that guy and start laying into him instead, and since he's just wearing his pajamas the other knights figure this is a good deal, and did Malory mention that the knight they're beating on is Sir Kay?
No? It's Sir Kay. Sir Kay is grateful for the help, of course, and is all ah, now we can fight them together! Just give me a second to catch my breath! Outnumbered three to one, you know!
"Don't worry about it," says Launcelot as he effortlessly dispatches all three of them.
They're not dead, just thoroughly demoralized, and they offer to surrender.
"Don't surrender to me!" Launcelot tells them. "It's Sir Kay, Arthur's Chief Caterer, that you've been fighting. Surrender to him and I'll let you all live!"
"Aw, do we have to?"
"Yes!"
"But you don't understand why we were running him down like a dog —"
"I don't care!"
"He entirely deserved it, because —"
"I said I don't care!"
"Fine, fine." The three knights surrender, and Launcelot tells them to go to Camelot and present themselves to Arthur.
"And to Guenever, especially to Guenever, and tell them that Sir Kay sent you. Sir Kay, you got that?"
They get it! So the three knights leave, tails between their legs, and Launcelot pounds on the gate of the estate until the nice little old lady answers it. There's a hilarious exchange about how she thought Launcelot was in bed, and he's all, I was in bed but now I'm not. All this confuses the little old lady. It's like there's a hanging open parentheses: she let Launcelot in, but didn't let him out, and now he wants to be let in again? Anyway, they get inside.
Kay doesn't realize that it's Launcelot who saved him, until they're indoors and there's light. He gets down on his knees and thanks Launcelot for the favor, and Launcelot is all, think nothing of it. The little old lady cooks up some late-night stew for Kay, and then Launcelot and Kay go to bed together, in a knightly sort of way.
The next morning Launcelot decides to have a little fun at Kay's expense. He gets up early while Kay's asleep and dresses himself in Kay's armor, Kay's shield, Kay's sword. He thanks the hostess for her hospitality, and rides off on Kay's horse.
"Ho ho ho," thinks Launcelot to himself. "Kay will have no choice but to wear my armor and gear and head back to Camelot, that'll be a laugh when they think it's me there but it's really Kay! Also, if I happen to see those three knights from last night, they'll think I'm Kay, which will likewise be good for a laugh, especially if they try to pick a fight."
Sure enough, eventually Kay wakes up, dons Launcelot's armor and gear, thanks his host, and goes back to Camelot, where there are all kind of wacky larfs due to Launcelot's hijinks.
DISCUSSION QUESTION: If you and two friends were trying to kill Sir Kay, why would you be doing it? Do you think you could talk Launcelot into taking your side?