Primary Sources: Le Morte D'Arthur, Book X, Chapters 84 to 86
The next morning Safere and Palomides ride out from Epinogris's castle together.  Before they've gone very far they pass another castle.  This castle is all done up for mourning (Malory doesn't explain what this looks like, so I'm imagining black velvet coverlets all over the walls and towers).
Palomides and Safere are intrigued!  They wander into the castle, where they meet a whole troop of guys weeping and wailing.
"You seem to be mourning something," says Palomides.  "What's up with that?"
One of the mourners looks up and gets the same look as Donald Sutherland in Invasion of the Body Snatchers.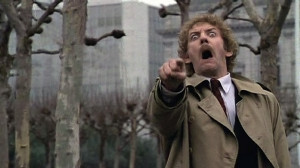 "It's him!" he cries.  "The one who slew our lord during the Lonazep tournament!"
"Who slew who in the what now?" asks Palomides, but by then the mourners have drawn swords and are on him.
Palomides and Safere resist — they stand, back to back, for hours, hacking away.  But they're outnumbered thirty to one, and eventually the knights and yeomen of the castle overwhelm them.  Malory doesn't waste any time explaining that twelve of the knights form a jury and find Palomides guilty of killing their lord during the tournament.  Safere they let go, since he wasn't involved.
Safere cries and whines and wails and gives this long diatribe about how unfair this is, which according to Malory goes on for hours.  You could hear, like, ten percent of Safere's complaint, and it would bore you and also him, he says.  Malory suggests we all just skip it.  And if Malory thinks it's boring…
Anyway.  After Palomides is convicted, the knights who hold him captive transport him to Castle Pelownes, the castle of the son of the lord he slew.  They make a big deal of it, riding in parade formation, with Palomides strung across the back of a horse and the lord's son in front and at one point they ride right past Joyous Gard, where Tristram and Isoud live.  One of Tristram's associate knights is hanging around outside.
"Tell Tristram!" Palomides shouts at him.  "Tell Isoud!  Tell Arthur!  Tell anyone!"
This associate knight tells Tristram all about it, and Tristram scowls.  "Stupid Palomides.  I hate that guy, he's my worst frenemy.  I can't let him die in some dungeon, though.  I'll have to go rescue him."
He dawdles, though, and by the time he gets to Castle Pelownes to rescue Palomides, Launcelot has already done it.
In a bit of staggeringly bad luck for Palomides's captors, they stop for water at a forest well at the same time as Launcelot stops for water at the same well.  Naturally Launcelot defeats all twelve of them in a couple of minutes.  He's just untying Palomides when when Tristram rides up.
"Unhand my frenemy, stranger!" shouts Tristram.
But we don't get another Launcelot-Tristram bout, because Palomides intervenes and explains that Launcelot had just rescued him.  Launcelot is doing his Mister Anonymous Knight thing, and doesn't ID himself as Launcelot.
When Launcelot does that it makes some sense, because I imagine if Launcelot were to walk around as Launcelot, he'd be fending off challenges left and right.
Anyway, Tristram (also anonymous, for much the same reason) gives Launcelot the stinkeye.  They're both wearing heavy face-concealing helmets, though, so nothing comes of that.  Tristram and Launcelot agree to go their separate ways.  Tristram takes Palomides back to Joyous Gard to recuperate, and Launcelot rides on to his destination, which is also Joyous Gard, to visit.
It's kind of like that sketch on Mr. Show with Bob and David where the two guys keep saying goodbye and keep walking the same way because they're parked in the same place.  Anyway.  Tristram and Launcelot each think the other is following them, but finally they all get to Joyous Gard and have a big laugh over it.  Except that Palomides is still into Isoud, and she's still not into him, and the oftener that Sir Palomides saw the lovely Isoud the heavier he waxed day by day.