Primary Sources: Le Morte D'Arthur, Book V Chapter V
Here's where things take a turn!  So Arthur is chilling in Dunkirk, taking attendance and getting everyone sorted.  Unlike D-Day there isn't any immediate resistance, because the Romans don't control the northern edge of France, that's Arthur's territory.  You may remember Arthur's friends from the Continent, circa Book I, Ban and Bors.  Bors is King of France, which means that he's a Roman subject, according to the logic of this book anyhow.  Bors is only too happy to join in Arthur's tax revolt; he knows which side of the bread the butter's on.  So there's no shortage of men ready to invade Rome, or fend off the Roman counter-invasion.
The Roman counter-invasion is late.  Lucius himself leads up a big ol' column of troops, drawn from every corner of the Empire, but they're slow-moving and haven't crossed over into France yet.  But!  Abruptly a farmer bursts into Arthur's tent and starts babbling about the giant.
"Oi the giant oi rutabaga giant oi!"
Seems that about three French provinces over, a giant has been terrorizing a bunch of folks who are at least in theory Arthur's vassals.  Why none of the thirty thousand troops that were waiting for him in Dunkirk — who are from the same general part of France, i.e. Normandy and Brittany and so on — thought to mention the giant to Arthur, I dunno.  Maybe they all assumed he knew about it and wasn't doing anything, I don't know.  Also King Bors is the King of France; you'd think he would take some interest.  But anyway.  There's a giant, this farmer says, and this giant has been rampaging Brittany and the province next to Brittany, which Malory says is Constantine but Wikipedia asserts was one of Normandy, Anjou, Maine, and Poitou.  Constantine: not actually a French province.
Anyway, for seven years this giant has been randomly murdering children.  Nowadays you can't find a child in the region, they're all gone, no more children.  When he ran out of children, he abducted the Duchess of Brittany, and committed acts both vaguely described and unspeakably awful, which resulted in her death.  Five hundred people quested to rescue her, all five hundred failed, and now she's dead.  Malory uses the phrase foul lust of lechery to explain the late Duchess's fate.
Since she was King Arthur's father's sister's son's wife, the farmer says, the people of Normandy/Brittany/Constantine look to him to revenge her and end the threat of the rampaging child-killing (and worse) giant.
"For the record I'm mainly motivated here by the giant's many atrocities, and the fact that the woman in question was a distant relative isn't important," replies Arthur.  "I mean, man.  That's pretty sick, seven years of murdering children, plus other atrocities.  I wish I'd heard about this much, much sooner.  Now, listen, can you tell me where this villain of a giant is?"
"You bet," says the farmer.  "We went ahead and set up some signal fires for you already.  See the big bonfire off in the distance, and the other big bonfire next to it?  You walk in a straight line between those bonfires, you'll find him.  Oh, also he's got a big pile of money, probably.  So, if you need any further incentive…"
"I don't!  Atrocities are atrocious, that's the start and finish of my position!  Well, thank you so much for bringing this to my attention, I'll take care of it, grab a gift basket on your way out."
After ditching the farmer, Arthur calls in Sir Kay and Sir Bedivere.  I was wondering when he'd show up.  Bedivere is in about three scenes total in Malory, and in one of them it's just "and Bedivere was also there and he got beaten up, pretty badly."  There's also this bit here, and then he does some stuff towards the end which we'll get to someday.  But he was in the Monty Python movie, probably because he has a memorably silly name, so I had my eyes open.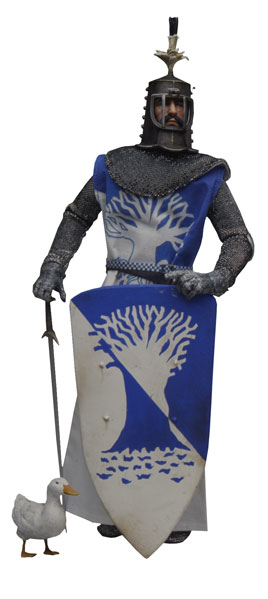 An image of the official licensed action figure of Terry Jones as Sir Bedivere in Monty Python and the Quest for the Holy Grail.
The king gets Kay and Bedivere to ride off with him on the pretext of they're going to take a quick pilgrimage to the shrine of St. Michael together.  I gather Arthur doesn't want to worry his soldiers with this whole "go off and fight a giant that's been undefeated going on eight years now" plan he's concocted.  They head towards St. Michael's, which is in the same direction as the distant bonfires, and ride on and past to the shrine, where Arthur tells Kay and Bedivere to hang back and be his backup.